This page is organized by technology type.  The focus will be on the specific devices that I use in my boats.  I will also explain why and what other options are available.  Your specific needs may differ and require different choices.

This is an important read!  Most of the electronic devices that we use on our boats are much more powerful when linked together than they would be individually.  Many of the decisions that we make, regarding brands and models, are due to how they integrate into our overall system and fishing strategies.
Before these modern, networking technologies were developed, we would choose each device based on the quality of its specific purpose, and of course — price.  It would be common to have several different brand-name devices on our boat.
The major change for me, was the development of GPS driven trolling motors.  The ability to "Spot Lock" and eventually control these trolling motors from our depth finders was a major game-changer.
Later, technologies such as 360 imaging and LIVE Sonar have advanced the game even further.  With these technologies added to the network, every device in the boat could share data and views.  Today, devices such as power poles and downriggers can also be added to the network and controlled from our depth finders.  
Examples:  (1) You notice a brush-pile on your side scan or sonar, then with a couple of clicks, your trolling motor could navigate to and park your boat on that spot. (2) You could be watching a school of fish on sonar while adjusting the depth of your downrigger to keep your baits in the sweet-spot – right from your depth finder.
Again, when networked together, these devices become more powerful than they would be individually. The key is compatibility.  "You should not add another device, or buy a new boat, without considering the compatibility of its devices to your overall system as well as to your long-term objectives and fishing strategies."
Case one – a person buys a new boat that is equipped with an Minn Kota, Ultrex trolling motor with iPilot Link along with Lowrance depth finders.  These are all wonderful devices.  However, they are not compatible.  Therefore, some of the most powerful features and functionality is lost.
Case two.  A person purchases a new boat with an Ultrex trolling motor equipped with iPilot along with Humminbird depth finders.  However, it was equipped with the basic iPilot system that does not network to the depth finders.  If the label on the trolling motor reads iPilot instead of ipilot Link, this is the basic version.  When purchased new, there is only a small difference in price.  However, there is a big difference in functionality.
In most cases, being compatible is not more expensive.  It just requires planning.  Too often I see people who are living with these mistakes or spending a lot of money correcting them.
As I discuss these technologies in more detail, you will see that I chose the Johnson Outdoor line of products as my primary system.  These include Minn Kota, Humminbird, Cannon, and other devices that are part of their One-Boat-Network.   I could have easily chosen Lowrance or Garmin systems as they also offer high quality, fully integrated technologies.
I made the switch with the introduction of GPS driven trolling motors.  At the time, I felt that Minn Kota had the best product.  I've been with the Johnson Outdoor line ever since and am very pleased with the quality of their products and service.  However, this could change tomorrow in light of new technologies or enlightenment.

Depth Finders
These units are sometimes referred to as graphs, control heads, chart-plotters, and a host of 4-letter names.  They normally act as monitors, displaying views of the data that is provided by the transducers.  They also serve as a command center to control other devices, such as trolling motors and downriggers, as well as displaying maps/charts.
Although these units could come with a transducer or preloaded with maps, we need to look at them apart from the devices or accessories they may pair with.
Here's why.  I have three Helix units on my boat.  However, I do not need three transducers because I will be able to share the tranducer data to the other units in the network.
Additionally, only one of these units will connect to the Mega SI transducer and it must be a premium Mega SI device.  However, the other two units could be the more basic Mega DI devices, as long as they are in the same generation.  The Mega DI units will be able to share the SI from the primary device.  The difference in price is significant.  Depending on the size of the units, this could save over a thousand dollars.
When choosing these units, we should consider what other devices or technologies the unit is compatible with and how these match your objectives and fishing style.  This enables us to add to our capabilities as technologies evolve and our finances allow.
Personally, I chose Humminbird's Helix model.  I have several of these on the boat in various sizes.  They are networkable and compatible with the technologies that are important to me.  Humminbird offers other models such as Apex and Solix which offer even higher definition displays and are touchscreen.  I chose Helix primarily due to price point.  I get aggravated sometimes trying to navigate around the device with buttons.  But when I consider the extra toys I can afford with the savings – I get over it.
Some of the features of these Helix units:
Ability to share waypoints and transducers with other units on the boat
2D chirp Sonar
Mega Down Imaging
Mega Side Imaging
Mega 360 Compatible
MegaLive Compatible
Compatible with premium map cards and AutoChart
Compatible with iPilot Link trolling motors and Canon downriggers
I also have 2 Garmin GPSMAP depth finders on my boat.  I use these to operate 2 separate Garmin LiveScope transducers.  These were added prior to Humminbird developing their MegaLive system.  We will discuss this in more detail in the LIVE Sonar section below.
It is worth noting again that Lowrance and Garmin offer depth finders with similar features and capabilities.  These units are also available at Dave's Sonar or other marine electronics retailers.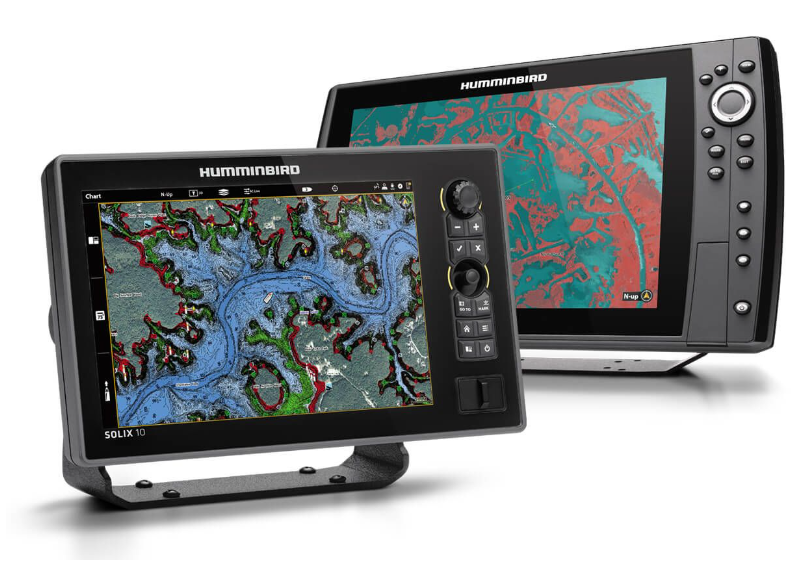 Mapping is an often-overlooked resource for consistently locating fish — both in real-time on the lake and a big part of your pre-fishing routine even before you get to the lake.  In this section, we will be discussing the various mapping/charting solutions that are available for use on the water.  There are many other resources and techniques that should be a part of your pre-fishing routine that are covered in more detail in the Demos section of this site.
 BASE MAPS
Most major manufacturers of depth finders come preloaded with a base map.  Some upgraded models may include premium options preloaded.   These premium map/charts are also available on SD cards that plug into compatible devices.
MAP CARDS
At the time of this writing, LakeMaster and Navionics are the most popular options.  LakeMaster maps are only compatible with Humminbird units.  Navionics is compatible with Garmin, Lowrance, and Humminbird.  So, which is the best, most accurate?  This depends on the lake.  The accuracy of these charts depends on how the chart data was obtained.  The most accurate data comes from Sonar surveys that were created by driving the lake.  On some lakes LakeMaster is the most accurate.  In others it may be Navionics.  It depends which company (if any) mapped the lake with sonar.  In the case of Lake Brownwood, my home lake, the answer is neither.  This is the case with many lakes.
LIVE MAPPING
The most accurate maps are those you map yourself with your sonar device.  Most major brands of depth finders offer live mapping capabilities.  Humminbird for example offers the AutoChart feature.  You simply start recording and survey the lake yourself.  Garmin and Lowrance units offer similar features.  Although it is not practical to survey the entire lake, it is not that difficult to map specific areas of interest.
The question is "why bother"?  Check out the example below.  Click and drag the arrow on the right of the image.  As you drag the arrow to the left, the image will reveal a point that does not show on the LakeMaster or Navionics maps.
If you were on the lake and failed to notice that point, it is likely that you also failed to notice that big school of white bass on that point.  The video below was recorded on that point.
The video above was recorded with Garmin LiveScope using the Active Captain iPhone app.  We removed the hooks from a slab spoon to have the white bass chase without being hooked.
For more information, see the LIVE Sonar Section below or in the Demos section of this website.
DAVE'S BOAT
In our boats, we use both Navionics and LakeMaster map cards.  On our home lake, (Lake Brownwood), LakeMaster is more accurate in some areas of the lake and Navionics is more accurate in others.  However, we Live-Map all the areas of interest in our lake.  We use Humminbird's AutoChart to map these areas.
MAPPING WITH AUTOCHART
AutoChart is a feature of most Humminbird depth finders.  Garmin and Lowrance have similar features and are great options if they are your primary devices.
You simply start recording and AutoChart immediately begins replacing your base map in real-time.  You can survey a specific area or just start recording and it will map as you fish.  For best results, follow the instructions provided in your owner's manual or see the Demos section of this website.
Without a special map card, AutoChart saves the recording on the hard drive of your device.  This gives you several hours of recording.  However, this is limited.  Once the limit is reached, AutoChart begins deleting the oldest recording.  Another limitation is that the map recorded on the device cannot be transferred to another device.  The solution to this is Humminbird's ZERO LINE map card.
ZERO LINE MAP CARD
You can simply insert a Zero Line card into your unit and it will begin saving your recordings to the card.  This provides 16 GB of space for your maps and allows you to plug your custom maps into any compatible unit.  These Zero Line cards are available at Dave's Sonar or at most Humminbird retailers.
AUTOCHART PC
AutoChart has a PC version that allows you to upload your recordings to your computer and compile custom maps that can be also used on any compatible device.  We use this program to gather recordings made on other units to compile our master map.  It also allows us to view the maps on the computer to study and work with off the water.  Other features include 3D renderings that really help get a better picture of what is below the surface.  AutoChart PC is also available here at Dave's Sonar.
LAKEMASTER CHART INTEGRATION
Although the Navionics map card will work on Humminbird units, many of the advanced features will only work with the LakeMaster card.  Features such as Following the Contour will only work with a LakeMaster card or the AutoChart maps that you build yourself.  LakeMaster and Navionics map cards are available at Dave's Sonar.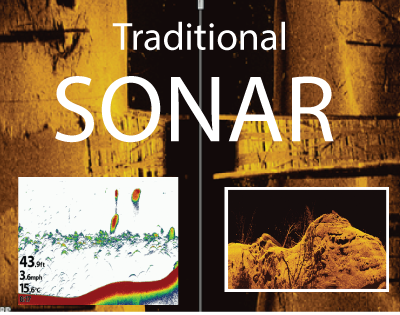 For this discussion, we will consider 2D Sonar, Down Imaging, and Side Imaging as Traditional Sonar.  We look at it this way because the transducer, which sends/receives the sonar signal, is in a fixed position on the boat – typically on the transom.  As the boat travels across the water, the depth finder screen scrolls at a steady rate based on the Chart Speed settings of the device.  The device is interpreting the sonar signal and drawing its representation on the screen.
2D Sonar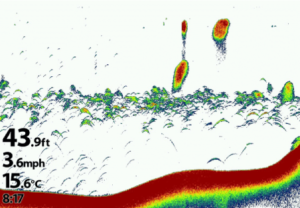 The image above shows a 2D sonar image.  It appears, from the digital readout, that the boat is moving 3.6 mph as the screen is scrolling from right to left.  The newest data is on the right side.  Notice the digital readout of the depth is 43.9 feet.  From top to bottom, you see a couple of balls of baitfish, various scattered baitfish and predator fish in the middle, and a depiction of the bottom.
Although this is considered basic sonar, there is nothing basic about it.  Modern "Chirp" transducers are allowing for better detail than ever and with multiple cone angle and setting options we can customize these views.
Even with higher definition Down and Side imaging options, many of us still rely on 2D to help determine the size and even species of fish based on how they are related to structure or schooled together.
Down Imaging (DI)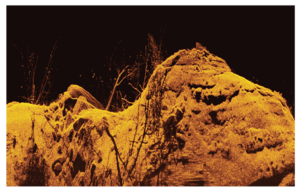 As with the 2D image, the screen scrolls from right to left as the boat moves through the water.  With frequencies in the Megahertz range, an almost photo quality image is produced.  You can clearly separate rocks, trees, other cover, and fish.  The fish appear like specs of rice in DI.
Side Imaging (SI)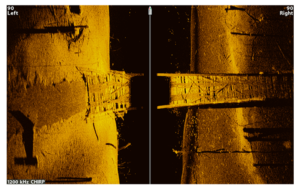 Side Imaging was a major leap in fish finding technology.  We can effectively survey 60, 80, 100 feet or more on each side of the boat.  Different from 2D and DI, the screen scrolls from top to bottom.  The newest data would be at the top. In this example of an underwater walkway, the range was set at 80 feet left and right. The mostly black section in the middle is the water column.
With sonar frequencies up to the Megahertz range, we can locate fish and structure with pinpoint accuracy.  Modern Side Imaging devices offer a host of options and setting that allows the angler to learn a lake faster and locate fish more consistently.
DATA COLLECTION
If you think about it, every second that your modern depth finder is running, a mountain of data is being collected.  Some you notice — some you don't.  Data is being collected from the transducer connected to the unit as well as GPS data.  More data is being collected than can be viewed on your device at any one time.
To illustrate this, there is a feature in most modern devices that allows you to record this data.  You simply turn on Sonar Recording and start surveying.  As your boat moves around the late, it is recording the sonar and GPS data.  Regardless of what screen you are viewing at the time, the 2D, DI, SI, and GPS data is being recorded.  Once recorded, you can replay the recording almost like replaying a video — only better.  As you are replaying, you can change views. You can watch the recording in 2D, DI, SI, or chart views.  You can switch back and forth between views.  You can back up and rewatch.  You can fast-forward or pause the recording.  This data is yours to review and learn from.
As an example, you may have been viewing the 2D or map screen while recording and over-looked a big brush pile.  If you locate that brush pile while replaying it, you can easily mark a waypoint on it now — hours, days, or even weeks later.  You can now drive straight to that brush-pile the next time you are on the lake.
These sonar recordings can also be used to make a map using AutoChart.  The side imaging images can even be embedded into the map.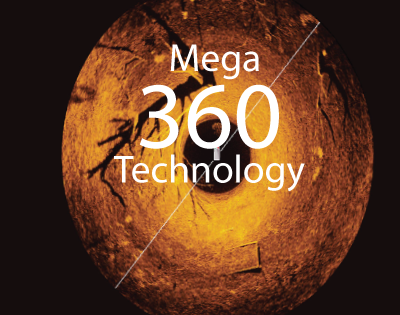 Mega 360
The 360 technology is unique in that while the transducer unit is fixed, normally to the trolling motor, internally the transducers rotate up to a full 360 degrees. As the transducer rotates, the fixed screen is updated with new data with each rotation.  Even with the boat sitting still, the device shows a 360-degree view around the boat.  With frequencies in the Megahertz range, it provides details comparable  to Mega Side Imaging.
The transducer is aligned with the keel of the boat. Therefore, the 360-degree image on the screen is laid out like a clock making it easy to know the location of the targets on the screen.  For example, if fish or structure is identified 30 feet from the boat at the 1 o'clock position, the angler knows the direction and distance to make a pinpoint cast to the target.
There are many settings and configurations to customize the views.  This includes reducing the rotation from 360-degrees to as little as 10-degrees.  This would focus on an area of interest and allow the screen to refresh much faster.  This results in an almost LIVE sonar view.
From a practical standpoint, even with the advancement of LIVE Sonar, this 360 technology still has a valuable place on our boat.  The ability to see at a glance the whole picture of the structure around the boat in virtually real-time is very useful.  Especially when bass fishing shallower water or viewing large areas of brush-piles or trees in search of crappie.  On my home lake (Lake Brownwood), there are many rock fence-lines that run through flats or across points.  Mega 360 allows us to see at a glance, where the fence may turn, intersect with other fences, or end.  In many cases we can see where the fish are holding to the fence.
The Mega 360 transducer is available at Dave's Sonar or other Humminbird retailers.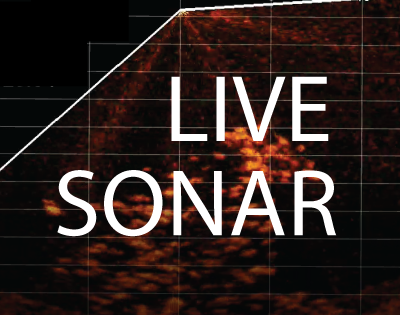 Live Sonar
Garmin's LiveScope, Humminbird's MegaLive, and Lowrance's ActiveTarget are examples of LIVE Sonar.  Both the transducer and the screen are fixed.  The screen refreshes with new data several times per second.  This produces an almost video-like image of the area in the path of the sonar beam.  We can see structure, fish swimming, and even our baits moving through the water.  Garmin first introduced this technology in 2015 with Panoptics.  What they termed the ALL-SEEING-SONAR which evolved into LiveScope. 
Nothing has made an impact on me as an angler like LIVE Sonar.  I can still remember my first outing with it.  It happened like this:  I saw the fish. I saw my bait run by the fish.  I saw the fish hit my bait.  Then, I saw the fish being reeled back to the boat as my brain exploded!!!  Even after doing this for years, my head still explodes.
Today Humminbird and Lowrance have introduced their LIVE Sonar products and are very competitive.  In the modern versions, there are several setup modes which include Forward View, Down View, and Perspective View.  Each mode has its application.  However, the Forward View is the most popular. 
The transducer can be pointed like a video camera toward a target with a range of over 100 feet. Typically, the transducer is designed to attach to the trolling motor shaft or motor.  As the trolling motor is turn, so turns the transducer.  This allows the angler to pan the transducer around with the trolling motor. 
Many of us began mounting the transducers to separate poles to get the transducer free of the trolling motor.  This is especially important if you use spot-lock.
Humminbird recently introduced their TargetLock system designed to work with their MegaLive transducer.  It offers several advanced features such as a sweep function and a target lock that can keep the transducer pointed at the target.
Earlier in the Mapping Technologies section, I showed a video of a school of white bass captured with Garmin's LiveScope.  Below is a video of a school of black bass working the end of a point also on LiveScope.  We caught and released 14 bass up to 3 pounds from this spot without moving the boat. Toward the end of the clip, you can see the bass chasing my drop-shot.
Currently I have 2 separate Garmin LiveScope units on our boat.  These units are positioned on the bow of the boat, each with its own manually operated transducer pole.  This allows 2 anglers to fish side-by-side, each with their own monitor and transducer.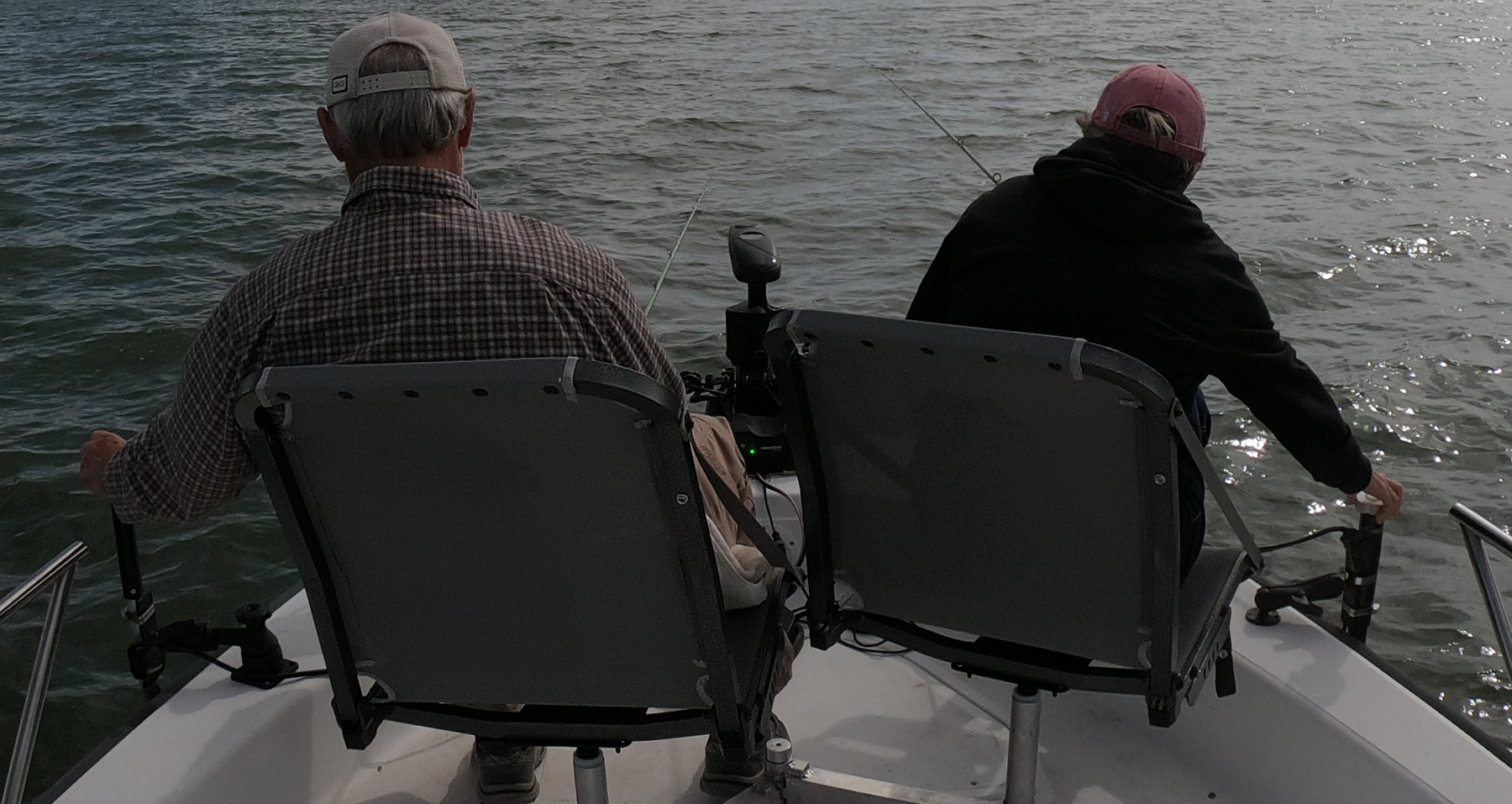 This is an effective and comfortable way of sight-fishing crappie, bass, etc. with LIVE Sonar.  In this case, my wife and I were sight-fishing blue cats.
When I turned on the GoPro camera that day, I accidentally switched the camera into the wrong mode.  Instead of getting a video, I ended up with over 20,000 still pictures of our 3-hour trip.
We were using 11-foot crappie rods with 6 lb. line.  The picture below shows a big one testing my tackle.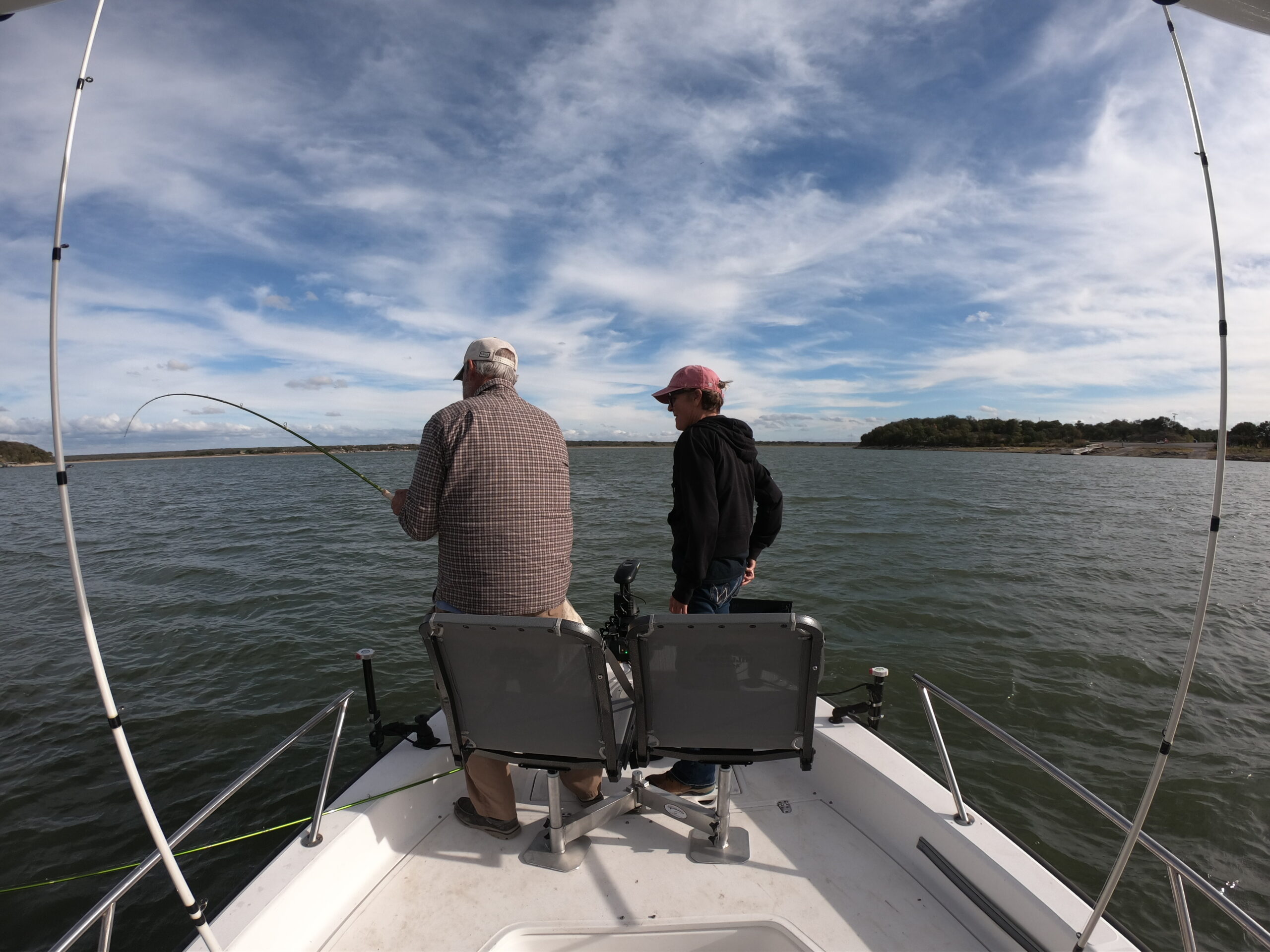 The following is the result of the 30-minute battle.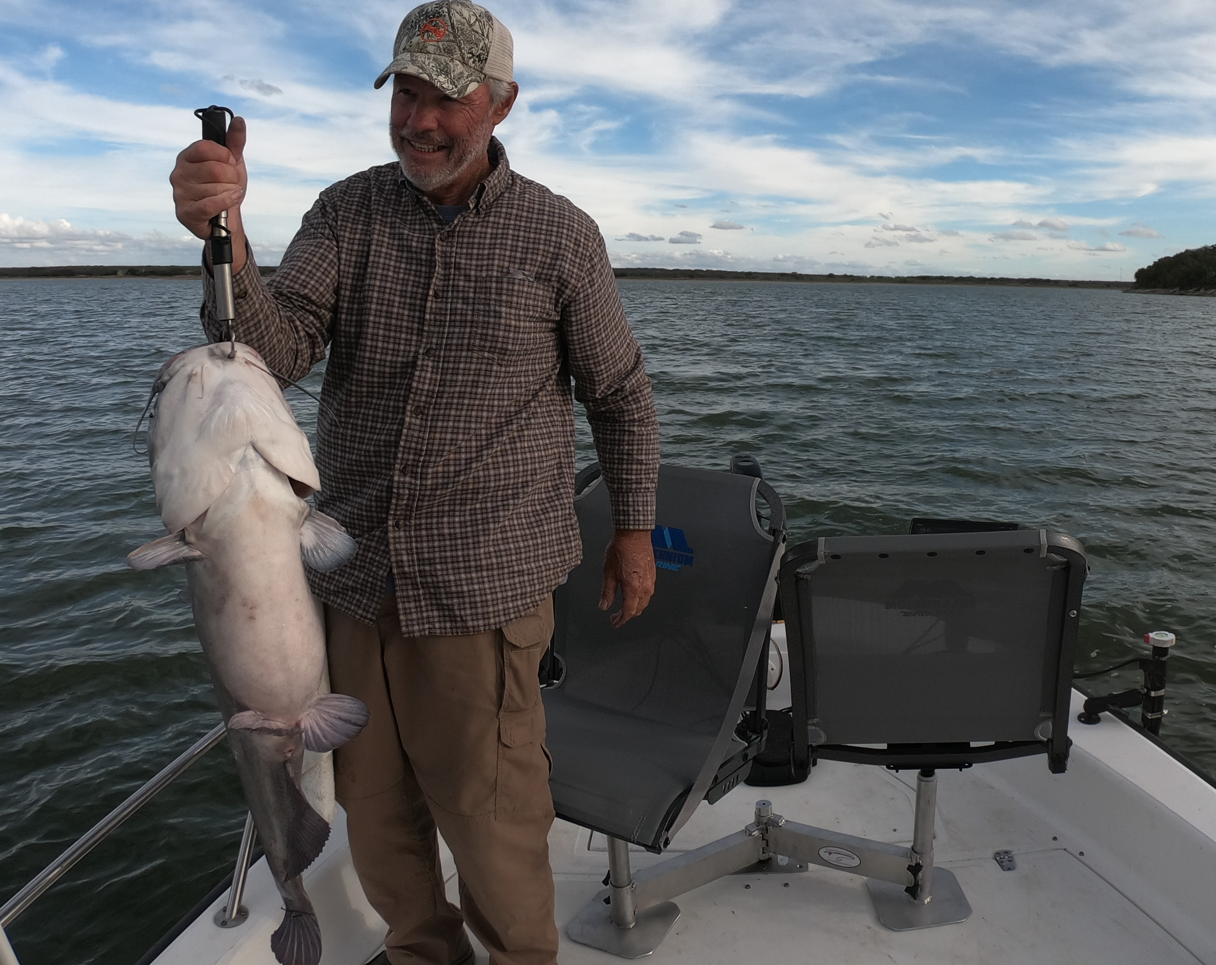 Once again — I saw the fish.  I saw my bait dangle in front of the fish.  I saw the fish attack my bait.  I watched the fish being reeled up to the boat while my brain was exploding!!!  It still happens every time.
We also have a Humminbird MegaLive system on board our boat.  The transducer is attached to a motorized transducer pole located on the port side of the boat, in-line with the console.  This is often used while idling around with the big motor surveying or pointed back toward the downriggers when trolling.
Lowrance, Humminbird, and Garmin each offer competitve versions of LIVE sonar.  They are each available at Dave's Sonar or other marine electronic retailers.
So, which do I choose?  In my case, I purchased the Garmin LiveScope unit.  This was long before the other companies begin offering their products.  At the time, I had already transitioned my other devices to Humminbird due to the compatibility with the Minn Kota, iPilot trolling motors and the introduction of their 360 technology in 2012.  At the time, it took a sizable investment because I had to also add Garmin depth finders to the boat as well.
Today, even though I still give the Garmin LiveScope a slight edge in detail after owning and testing both, I might make a different choice.  I would likely go with Humminbird's MegaLive because it would network in with my current devices and reduce my cost. The transducer would plug directly into the network and be available on any of my Humminbird depth finders.  If I was running Lowrance equipment, I might go with their ActiveTarget system.
Another point to consider might be the ability to run dual systems. As mentioned earlier, I have 2 LiveScope unit on my boat.  When discussing this with Humminbird, they said that the MegaLive systems would not work this way due to interference. 
I tested this by hooking up 2 MegaLive systems and kept one of the units outside of the network.  I did see interference but only when the transducers were pointed directly at each other.  I have not tested the Lowrance units in this manner.
WARNING: If you don't want your brain to explode, stay away from LIVE Sonar!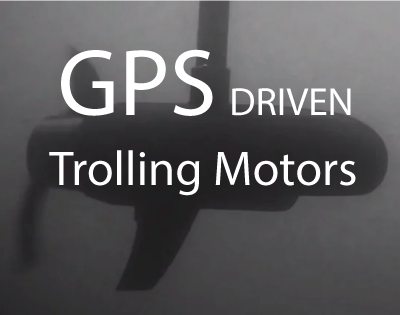 GPS Driven Trolling Motors
When asked what technology I would hate to live without — this must be at the top of the list.  The ability to Spot Lock and a host of other features of modern trolling motors would be hard to give up.  I might be forced to go back to hooks and sinkers as depth/fish finders.
The following are a few of the primary features that we almost take for granted from our trolling motors.
Spot Lock:  The ability to virtually anchor our boat on a specific spot in the lake regardless of depth.  The modern trolling motor (TM) achieves this by placing a temporary waypoint on a specific geographical spot.  The boat uses its power and ability to steer to stay on that spot.  The angler can use the Jog feature to move that spot in increments of 5 feet, forward, backward, and to the right and left.  This enables us to maneuver the boat in very precise ways around structure to find or stay on fish.
Due to the efficient way the TM uses power, it does not use a lot of battery power to hold its position. Above the normal uses of Spot Lock, I have spent hours locked to a specific spot over deep-water while night fishing.  Because of its reliability, I could Spot Lock, turn on the underwater lights, and watch the fish on LIVE Sonar chase baitfish that was attracted by the light – and occasionally get fooled by a well-placed minnow.  Another brain-exploding moment!
Circle Mode: Just choose a spot and a distance and the TM will navigate the boat in a circle around that spot allowing the angler to thoroughly work an area or structure.
Follow the Contour:  When using a compatible map/chart, simply choose a contour line such as 22 feet and the direction you want to travel.  The TM will navigate the boat in that direction on that contour line.
iTracks:  Create and store trolling paths for your TM to follow.  Choose the track and speed and your off.
Backtrack: At any time, you can have the TM backtrack along your current track.  You can go back and forth along the path by reversing the direction.
Routes:  Select a series of waypoints to create a custom route for the TM to follow.  Choose a speed and you're on your way.
GO TO:  Place the curser of your compatible depth finder on a waypoint, spot on the map, or spot on your sonar or side imaging screen and the TM will navigate to and park your boat on that spot.
Cruise Control:  When following a path you can adjust the speed that you want the boat to travel.  For example, you could instruct the TM to follow a trolling path at .5 mph.  Using its on-board GPS, it will regulate the boat to that speed.
These and other features are available on most modern GPS driven trolling motors.  Lowrance and Garmin also have competitive Trolling motors with similar features that integrate with their depth finders. 
The specific units I run are the Ultrex and Ulterra models by Minn Kota.  The Ulterra that I use on my bay boat also has an auto-deploy feature that can be accessed from any of the Helix units on the boat.
However, if you fishing style requires a lot of manual steering with the foot control, the Ultrex would be my choice.
Garmin, Lowrance, and Minn Kota trolling motors are available at Dave's Sonar or other marine electronics retailers.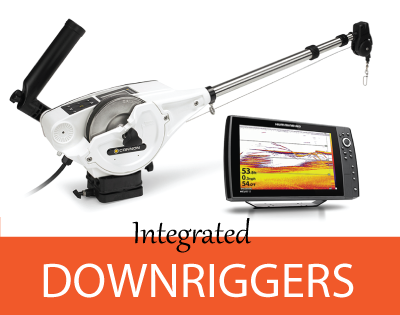 Integrated Downriggers
Cannon downriggers  are considered to be the most reliable, feature rich downriggers on the market.  Their Optimum model now pairs with our Humminbird depth finders and smartphones which adds another list of ground-breaking features, such as the ability to:
control up to 4 downriggers at a time,
Auto Up – raises all downriggers with a single click.
Monitor and control the depths of up to 4 units from the sonar screen.
Bottom track – automatically adjust the depth of your baits to a specific distance from the bottom.
Depth Cycling – raises and lowers your baits as they move through the water allowing you to cover more depth ranges.
The Optimum comes with a high visibility, 3 ½ inch LCD and a keypad to access a host of presets and features that simplifies the operation.  This allows us to concentrate on staying over the fish.
The Cannon Optimum downrigger and accessories are available at Dave's Sonar or other marine electronics retailers.